Vertical Balers » B-series
Baler PC24 HD Galvanized
The PC24 HD baler is suitable for smaller recyclers, breweries, bottling plants etc.With a single full penetration, heavy duty cylinder, this baler is ideal for even the most rigid materials.
---
Highlights and product features
Extraction of liquids.
The PC24 HD is not only capable of baling your cans or plastic bottles, it will also capture any liquid residue in the collection reservoir at the bottom of the machine.
Alu cans and PET bottles
The PC24 HD will crush aluminum cans so densely, you do not need to tie off the bale to get it to stick together.
PC24 HD Galvanized - can and bottle crusher:
Heavy duty machine
Very dense bales
Donation style door for easy loading
Completely enclosed chamber with liquid reservoir
Option for regular paint instead of galvanized
Compliant with ANSI and UL standards
How does the baler work?
Time-saving and easy waste handling
Load your recyclables into vertical baler.
A full-bale light tells you when the baler is full.
Tie off and eject the compacted bale.
Remove the bale with a pallet jack for storage untill collection.
---
As quiet as an air conditioner
Keep track of your equipment while collecting data
Optimize your equipment with BRA-IN, short for Bramidan Intelligence. Our IOT platform equips our customers with data and push notifications that help to make informed decisions that reduce operating costs and benefit the environment. Access through the BRA-IN Webportal or App.*
checkCollection of data – troubleshoot errors, track status, fill levels, and number of bales made, etc.
checkLocate equipment - track the geographical location and assign groups based on store chain or territory.
checkPush notifications – receive email or text notifications alerting you of the status of your machinery.
*Requires active subscription, availability may vary from country to country
| | |
| --- | --- |
| Bale weight plastic bottles (lbs) | 60-230 |
| Bale weight alu cans (lbs) | 30-120 |
| Press force (lbs) | 53,000 |
| Power supply | 208/230/480V 3-phase 60Hz |
| Motor (HP) | 5.5 |
| Noise Level (dB) | 62-64 |
| Cycle time avg. (sec) | 39 |
| Dimensions WxDxH (inch) | 45 x 48 x 118 / 79 |
| Weight (lbs) | 1985 |
| Feed opening WxH (inch) | 20 x 20 |
| Load height (inch) | 49 |
| Chamber height (inch) | 47 |
| Stroke (inch) | 43 |
| Number of ties | 4 |
| Type of tying | Twine / Steel wire |
| Full bale light | Yes |
| Bale eject | Automatic |
| Waste volume | Small |
Questions? Get in touch today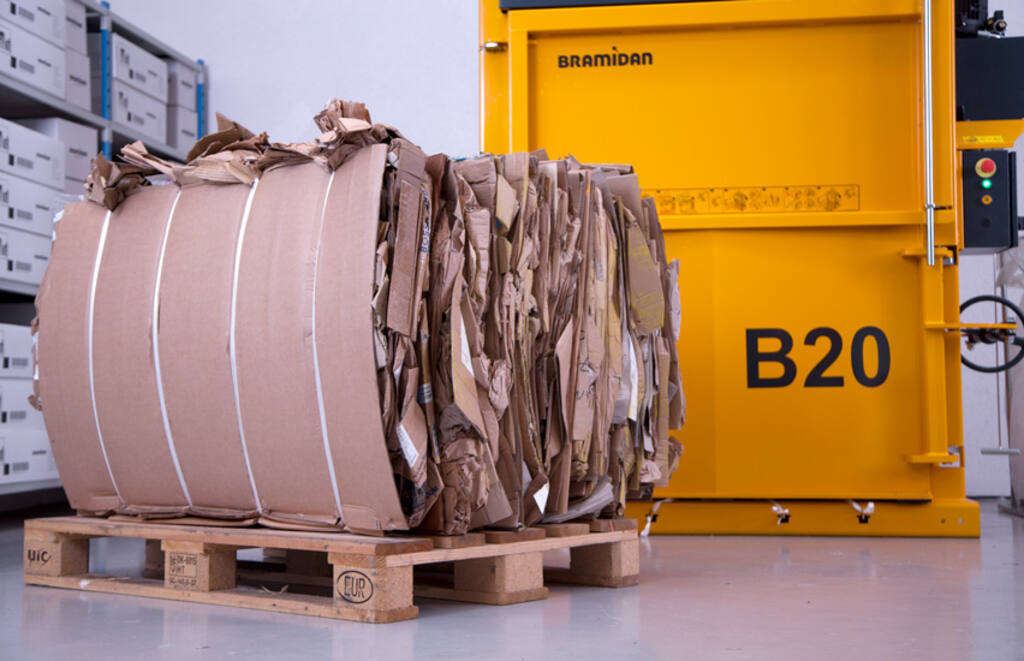 Fill in the form and we will contact you.